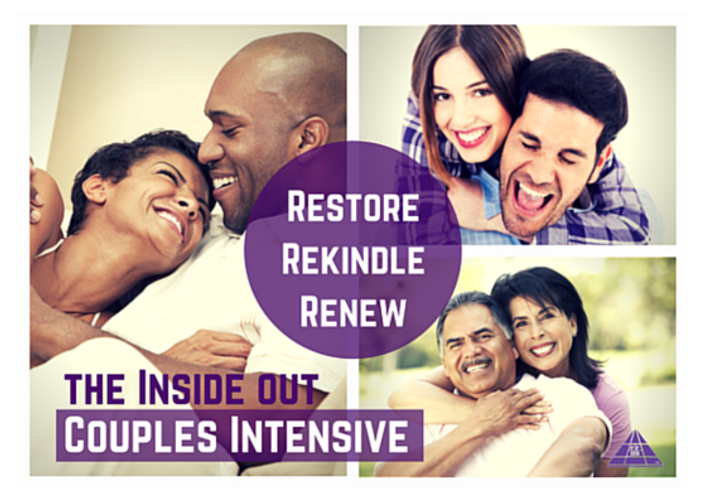 The Inside Out Couples Intensive Online Program
Restore - Rekindle - Renew Your Relationship
After the painful failure of a relationship, I wanted to know what went wrong. I thought to myself there has to be something going on that is beyond what is being seen and felt. I began studying how the mind works and the psychology behind behavior and how habits are formed and maintained. I then came across NLP (Neuro Linguistic Programming) and begun to really dig deep into that science. That lead me into the worlds of neurology and physiology and the 'rabbit hole' just kept getting deeper.
I was able to combine the knowledge, principals and strategies I had learned from all these different areas into one area and I called it the, "Inside Out Couples Intensive". At that point, I needed to find out if what I had created really worked. I contacted several resources and was finally able to do a workshop for 25 couples whose relationships were really in trouble. The relationships were in such bad shape, during a break, three of the men approached me separately and shared that if this doesn't work, their relation would be over. That workshop went so well, the following week, 20 more couples were brought in to get the same information. Within that 10 day period, 45 couples, whose relationships were in pretty bad shape based upon what the couples were experiencing, were exposed to the "Inside Out Couples Intensive" and out of the 45 couples in that cohort, only 2 of the couples went on and filed for divorce and/or separation … 43 out of the 45 made the decision, at the workshop, to renew, revive and restore their relationship. And, those couples are still together today. That was several years ago and since then, this workshop and it's content has been successfully shared on a very private level with hundreds of couples who have experienced the exact same results.
Your relationship being successful, healthy and fulfilling is not just about being in love and having trust and handling finances appropriately. Yes, these things are very important however they are only an external indicator of something else; something much deeper. How you show love and trust; how you think and react and even how you handle finances are all driven by internal patterns and models.
This is what makes the "Inside Out Couples Intensive" so powerful. It provides answers and solutions to the real obstacles and challenges. It's not about making your relationship feel better; it's about making your relationship better period. It's not about you having to purchase multiple different courses and information. This one course has everything you need and there is no upselling or anything additional to purchase. I actually periodically upload new content exclusively for you to have access to for no additional cost to you.
This material was once only available to couples in a private setting but now you can have access to the entire course for a fraction of that cost. This is not some close your eyes and visualize your relationship being better and overnight you will have the relationship of your dreams. Your relationship didn't get to where it currently is over-night and it will not be fixed over-night. However, if you are willing to commit yourself to this, you will immediately begin to understand what needs to be done to make it better. You will be taken to the root of what is preventing you from having a healthy and fulfilling relationship and then empowered to move beyond it.
Once enrolled, you have access 24-hours a day 7-days a week so you can complete the course at your leisure and once completed, you can revisit the information as often as you like. All the information is presented in a clear and concise manner. The course consists of a workbook created exclusively for the course content, videos, MP4 files, downloadable exercises to provide you with the reinforcement you need and much more.
Enroll now and get on track to start living your best life!
Why This Couple's Intensive?
Because the cost is extremely reasonable

Because you are having challenges working through your differences

Because the only resolution seems to be to end the relationship

Because past hurts are hurting you and your relationship

Because your communication has become constantly negative

Because one partner is considering having an affair or there has been infidelity

Because your relationship is brand new, and all the other reasons why your relationship is not working and is distressful.
Testimonials - Here's what they're saying about the Inside Out Couples Intensive
"This program saved our relationship. If you are serious about yours and making it work, this is the program for you." J & R Franklin
"We were actually in marriage counseling when we purchased the Inside Out Couples Intensive program. This was one of the best decisions we could have made. This program was instrumental in us continuing our counseling sessions with a much different attitude and expectation. It made us look at ourselves regarding what needed to change instead of looking at the other person. We highly recommend this program for your relationship. It really helped us and made a difference." K & M McDaniel
"Being able to go through the sessions together and in the privacy of our home was very nice. Having the workbook as a tool was also a big plus. We both were able to follow along and take notes and then we were able to compare our notes and get a deeper understanding of what we were getting from the sessions as individuals. Each session was easy to follow and well laid out and we are able to go back through it as often as we like. This is definitely a program you should order" D & P Williams
"When my wife and I were processing if we should purchase this program or not, one of the determining factors was the cost. At $349, we figured what do we have to lose. I mean, two counseling sessions would cost more than $349 so we decided to give it try. The decision to purchase this program was one of the best decisions we could have made for our marriage. This program made us take a deeper look at ourselves and made us realize that if our relationship was going to change, we had to change first. Knowing what we know now, we would pay $2,500 for it." E & F Watson
"We decided to purchase the program since we are dating. It has opened our eyes to some things that we more-than-likely would not have discovered if it had not been for the program. Since we are discussing marriage, we are now better equipped to have the real types of conversations we need to have. You cannot go wrong with this program." K & B Thompson
"Hands down the best information we have found regarding building a better and more intimate relationship from the inside out. If you are in a relationship and thinking about being in a relationship, you need to get this program." S & B Bradley
Course Curriculum
Welcome
Available in days
days after you enroll
You Did It! What's Next?
Available in days
days after you enroll
Frequently Asked Questions
When does the course start and finish?
The course starts now and never ends! It is a completely self-paced online course - you decide when you start and when you finish.
How long do I have access to the course?
How does lifetime access sound? After enrolling, you have unlimited access to this course for as long as you like - across any and all devices you own.
"Great relationships don't just happen, they're nurtured." K.L. Alston

So what are you waiting for? Enroll now to nurture your great relationship today!